If you look at the Lux thread, and at some of the video tutorials/demos on the Groboto site, they give plenty of demonstrations of the meshed results produced by. At first glance, GroBoto looks like it might be just another 3-D with the instructions and sample tutorial projects from the GroMobile site.
| | |
| --- | --- |
| Author: | Julkis Dirisar |
| Country: | Grenada |
| Language: | English (Spanish) |
| Genre: | Music |
| Published (Last): | 8 August 2015 |
| Pages: | 89 |
| PDF File Size: | 20.73 Mb |
| ePub File Size: | 1.87 Mb |
| ISBN: | 867-6-65925-467-2 |
| Downloads: | 61599 |
| Price: | Free* [*Free Regsitration Required] |
| Uploader: | Malam |
From the sounds of it, they're also on the right track w. Thanks for the links.
This is going on the hit list. Will have a play around today Why should they have all the fun? Agreed, the results can be a bit heavy, but I don't see them as significantly worse than handing around frozen sub-d surfaces.
What are impressions of V3?
However they also offer a procedural engine capable of complex iteration and variation of objects to build more complex objects, and that's where things can get really fun — their procedural engine kind of tuotrial me of "fusionThing", if you're familiar with that C4D plugin. When I get some time, I'll give it a whirl.
There is a demo, and I'd be interested to hear your take on it. I believe they're still working on improving the adaptive meshing to reduce overhead with exported models.
Thanks for the link John, I did not hear about it until now. The Luxology thread about Groboto is hereand one of the package's developers is even active in it providing tips and tricks, uttorial how tutorrial migrate between Groboto and Modo.
It offers some interesting modeling tools for procedural geometry generation, and elaborate boolean capabilities. Lately, I'm more tutirial about edge flows for animation, and so far I've been pretty satisfied with Groboto's mesh results.
Generative Bots | Syntopia
The geometry is really good but quite heavy when meshed for export. In V3, they've introduced some pretty impressive new tools for general modeling, and as C4D folks are always looking for inexpensive modeling solutions, I thought it was worth mentioning it here.
Looks great, thanks for the heads up. Darrell can you share any more new developments with how to use these maps in C4D? Of course I'm happy to answer any questions, and very interested in seeing any hybrid works you guys produce.
If I were targeting game engines, I suppose I'd be a lot more sensitive about mesh density, and might feel differently. I view the heaviness of Groboto's meshes as a similar "tool tax": He posts there as groBoto – it's well worth a look at his posts and those by people using Groboto as a starting form generator for ZB. Posted November 5, I won't be selling my Bonzai3D license just yet, but I find modeling in Groboto surprisingly productive, albeit a bit "different" UI environment.
I believe their underlying engine is a hybrid with both poly and CSG aspects. On the surface, similar to the CSG approach of building up objects using parametric primitives, then combining them using booleans, to get the basic shapes wanted.
I saw an older thread, but it was about an older version and didn't say much. Posted August 13, Posted September 4, It looks interesting so I'll check it out. It all looks very good — some truly intriquing possibilties discovered by leveraging GroBoto's mesh structure with Phong Breaks, Selection Options, and Deformation Restrictions in C4D.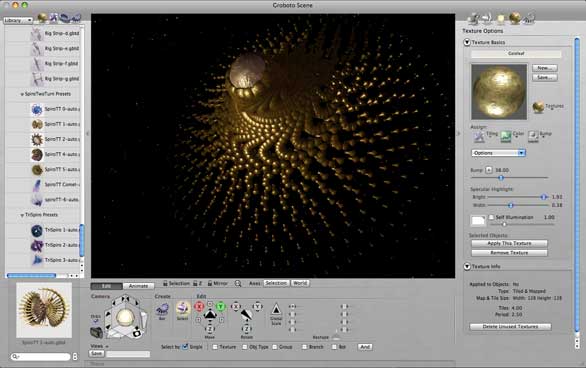 I find the results quite acceptable. Can you give some general info about the modeling tools?
GroBoto v3
They're clearly focusing significant effort on the quality of geometry produced for export, and it shows. Sign In Sign Up. Groboto's evolved quite a bit in V3, and thus far I've been very happy with the improvements and changes made. Here's his main sketchbook thread: I had never heard of this app before either, but it looks intriguing enough that I downloaded the trial version. Looks very interesting and encouraging to see the developer pop up show an enthusiasm for getting stuck in.
This topic is now closed to further replies. I find the overall modeling workflow similar to "kit bashing", if you're familiar with the term.
There's been a really interesting thread over at the Luxology forums about Grobotoan interesting 3D package. Anyone else a Groboto user here?